Sarah Jane Florist - National UK Florist
Sarah Jane Florists are a well established UK florist based in Lowestoft, Suffolk. The online flower shop provides easy access to the entire range of flowers and flower related products for purchase online or through the shop. Sarah Jane Florist offers national flower delivery.
Products range from individual flowers and bouquets to specially combined gift sets for all occasions.
With many years experience the staff at Sarah Jane Florists able to provide expert advice on seasonal flowers and flowers for special occasions and events. The online flower shop sorts flowers and products into different categories enabling easy selection no matter what the occasion including seasonal flowers, flowers for special occasions for example mothers day, valentines day and many more, flowers sorted by price range to suit all budgets, and flowers by variety for those looking for a particular type of flower.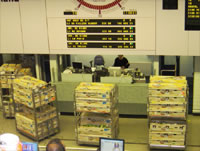 Flowers fresh from Holand
Sarah Jane Florist sources all their flowers direct from the finest growers in Holland to ensure the freshest and finest quality flowers for their customers.
Sarah Jane Florist Flower & Gift Categories
The website is designed to make the experience of shopping for flowers easy with areas for every customer:
View our most popular flowers to see the current trend in flowers.
Flower Special Offers – to give all customers that little extra on top of the fantastic quality.
With many satisfied customers returning time and time again see what they have to say about Sarah Jane Florist in the customer comments section
Contact Details
Address:
42/44 Bridge Road,
Oulton Broad,
Lowestoft,
Suffolk
NR32 3LR