Case Study: All Florists
URL:
Date of Launch:
January 2005
Industry Area:
Floristry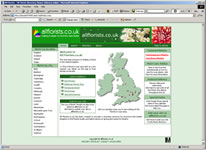 Project Overview / Brief:
Internet Managers identified a need in the market for a fully conversant directory / information portal for florists and flower related information. Aimed at providing users and florists a complete flower related resource. The aim was:
To create a 'vertical market sector' focusing on floristry.
To provide an informative resource for users and people looking for help, advice and information about the use and care of flowers.
To create a directory of local and national florists throughout the United Kingdom providing information and links to websites (where applicable) enabling users, anywhere in the world to easily find a florist supplying flowers to their required area in the UK.
Target Audience:
Individual users looking for information about plant care and general advice about flowers and the floral industry. People looking for florists able to service specific areas.
Target Market:
Individual florists and small florist companies. Florists looking for better internet coverage and marketing. Internet Managers identified over 3000 florist companies in the UK and aim to provide coverage for at least 50% of this market within the directory.
Research & Analysis
Benchmarks & Competition Analysis
Time was spent researching UK florist directories on the internet, where they were successful and where they had flaws identifying areas which could be improved.
Market comparisons were made with sites like Brit Info Net and city-visitor to find their market share and rate All Florists potential competition within search engines such as Google, Yahoo and MSN.
Evaluation was undertaken on some of the top florist directory web sites to decide if there was still potential scope for a market leader in this industry.
Collating Industry Information
Some of Internet Managers key floristry clients were approached for involvement in providing professional advice on floristry and flowers.
General comments from florists were collated to gain further information about what the industry felt a good floristry directory should provide including the provision of good information and the 'likes' and 'dislikes' of directory structures.
The Project
Designing the site structure
The web site was designed to be easy to navigate and set out in well defined areas for users and clients. The areas were set out in the following sections:
Client area – providing information and resources for advertisers and companies wishing to be listed in the directory.
Client Profile section - enabling florists to have their companies profiled on the web site providing another form of marketing for small florists.
User area – providing informational resources for the users of the site including tools like the 'reminder service' to encourage interactivity with the web site.
The Directory – aimed at providing a well structured, searchable directory to cover the entire UK.
Marketing
With such a competitive market it was important to keep an ongoing marketing program active to ensure the web site was continually being submitted to internet directories creating awareness of All Florists.
An area was created to provide textual and graphical links to All Florists for listed clients to use on their sites, encouraging links back to the site wherever possible.
A Search Engine Optimisation (SEO) strategy was compiled to continually monitor and update data within the website to ensure maximum exposure for search engines.
Conclusion
With the launch of All Florists in January 2005 Internet Managers gained many favourable comments about the site and how easy it was to use. Florists also favoured the site not only for the way it was structured but for the support that Internet Managers was able to provide in the way of advice and information on how to improve their own web sites and ranking within the top search engines.
Search engine ranking was obtained very quickly by Yahoo and MSN however it took 3 months for rankings to start to appear within Google's listings.
Further Information
Technical Specifications
Platform:
Windows 2003
Database:
SQL Server 2000
Site Development:
ASP, HTML, CSS, DHTML, Javascript, Flash
The All Florist Network
Further to the creation of the All Florists National Directory Internet Managers created a network of supporting sites in a 'tiered structure' to support the site. These took the form of County and City specific sites. The main aims of these sites were to:
Create the potential for specific SEO targeting based on location.
Strengthen marketing potential with search engines, creating a wider coverage on the internet.
Providing further areas for content and listings including Wedding listings which could not be covered on All Florists.
To find out more about the All Florists Network click here
Site Administration
Due to the scale of the All Florists web site it was important to create a set of administration tools to enable the upkeep and administration of the site without creating impossible workloads. An administration area was created to include:
Company / Listing administration including adding of new listings automatically.
Page administration – allowing content changes and general a general CMS (Content Management System)
Marketing tools – enabling the collation of user information and providing tools to send this information to clients via email.
Future Plans and Objectives
Phase II (completed March 2007)
Improving the directory structure - listing most of the locations in the United Kingdom, currently listing over 2500 locations.
Enhancing the listing view so that wherever there wasn't a local florist listed on a page alternative florists nearest to the location would be listed. Also allowing provision for the listing of National UK Florists.
Integration of All Weddings clients into the county based sites to create more content which was being updated on a timely basis.
The Future of All Florists
Internet Managers aim to maximise the florist coverage on All Florists continually adding new florists, striving for the target of 50% of all UK Florists by the end of year 2009.
Further enhancement of the informational areas on All Florists to provide a complete resource for its users.